SESTA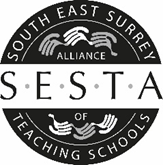 In February 2015 Dovers Green became a Teaching School.
Along with five other 'Outstanding providers' in Reigate, we have formed an alliance called SESTA (South East Surrey Teaching Alliance). The other schools are Holmesdale Community Infant School, Reigate Priory Junior School, Reigate School, Reigate Valley College and Reigate College.
Introduced in 2011, Teaching Schools are all rated as "outstanding". They take a leading role in recruiting and training new entrants to the profession, identifying leadership potential and providing support for other schools. They work with partner schools to ensure high quality school-led initial teacher training and professional development opportunities for teachers at all stages of their career. They raise standards through supporting other schools, engage in research and development.
Being part of SESTA provides many exciting opportunities for us as a school community.